Lush have decided to go down the make up route again. As went on a shopping trip with my Dad today, I decided to pop into Lush and check out their new make up brand, Emotional Brilliance. I have to say what I saw in their Reading store really impressed me!
As you can see from this- their range has some pretty fantastic colours.
The woman introduced me to it by telling my fortune,that is all I can describe it as for now, there was a wheel with all the colours of their lip tints and eyeliners, I had to close my eyes and clear my mind while she span the wheel and then I had to pick three of the colours, underneath the blocks of colours were the eyeliners and lip tints. I picked Feeling secure, passionate, and success. There was even dry ice to give it a more mystical look. These are the names for the products I thought this was a really nice way to introduce the customer to the product, and revealed which ones you wanted/liked the most. I actually did end up buying Feeling Secure, it is such a lovely vibrant purple colour and it was the first one I picked!
I love the bottle! It's not really what you would expect make up to be in, and the fact that it is glass gives it a nicer feel, even if it does look like it could contain something medicinal. Plus the label looks really cute. From looking at the bottle you can see the colour is really bright and highly pigmented this is how it looks when worn.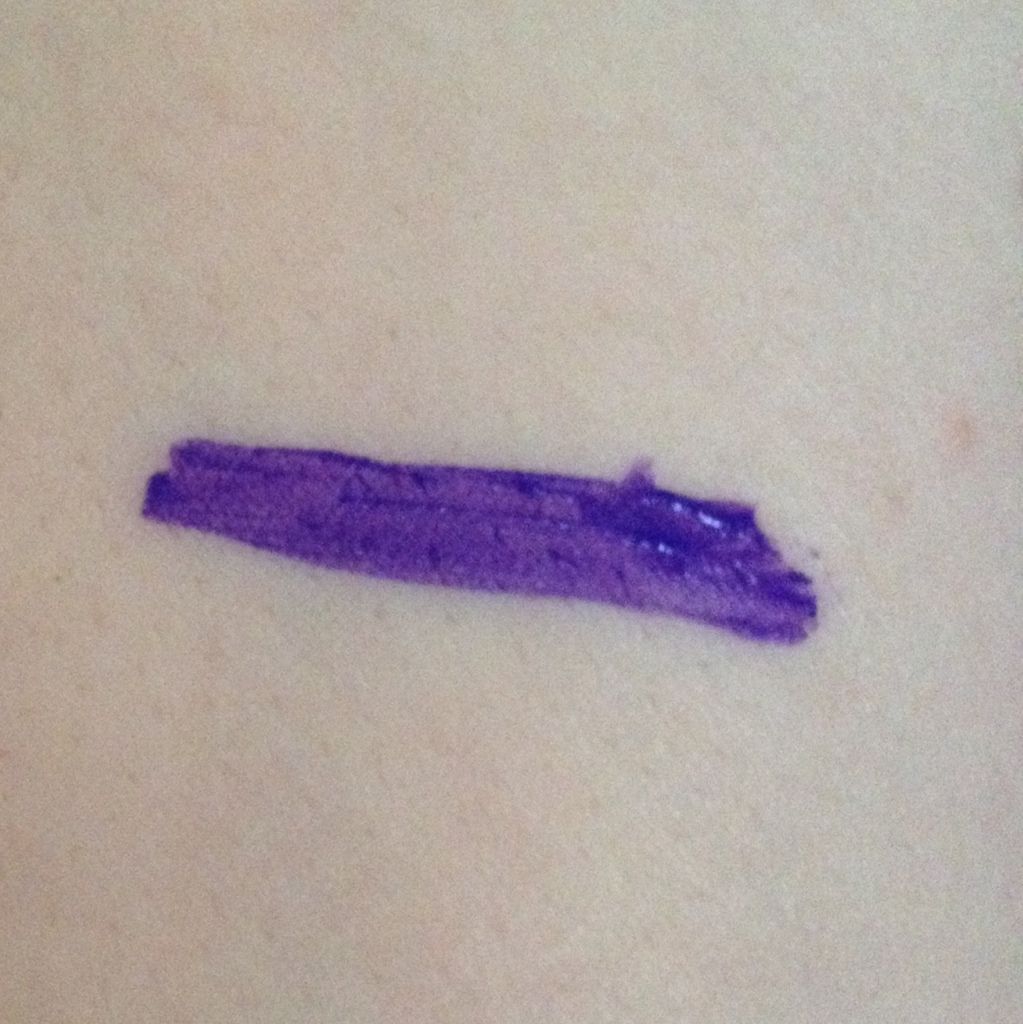 Here is a small swatch on my wrist- I love the colour so much, and it lasts for a really long time as I put it on my wrist to take the photo 4 hours ago and it's still there despite being rubbed up against the sleeve of my hoodie. Pretty much all the colours in this range are bright and vibrant- perfect for the summer!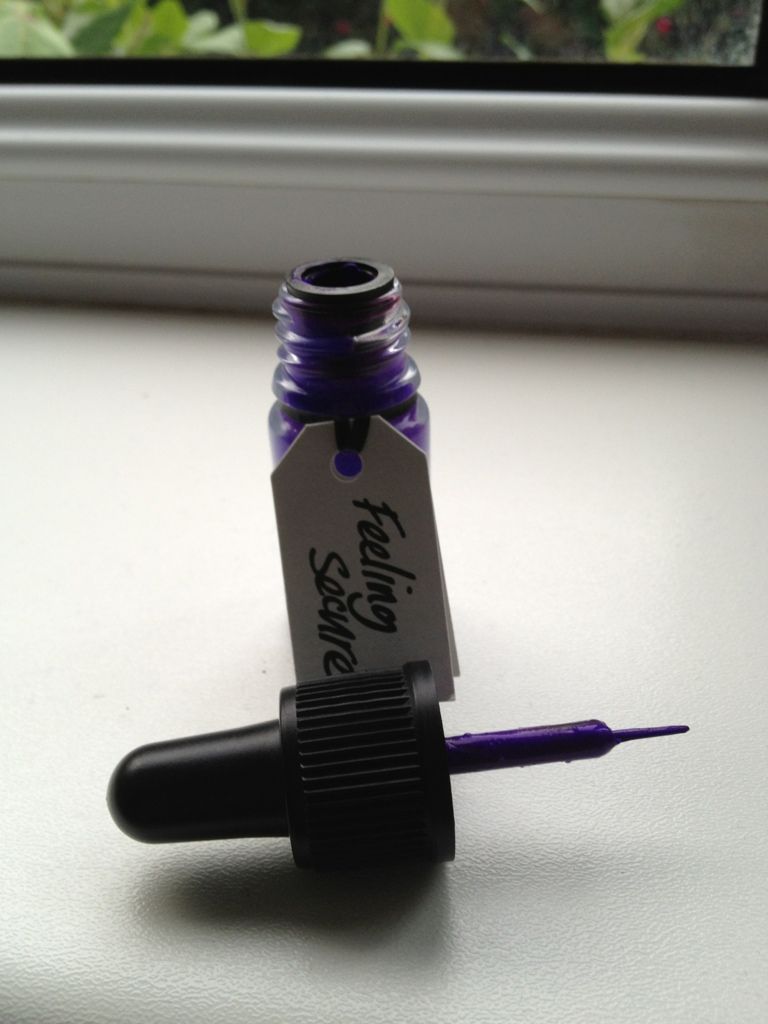 As for application as you can see it is a bit bulky on the top- this makes it a little harder to apply so I will probably just use one of my other eye liner brushes. But the tip is really fine so it will give you the precision that you need- I just think the bulky black lid is a bit of an annoyance. Although it does make the bottle look really cool!
The eye liners and lip tints in this range, are £14.50, this price might be a little steep- however all their products are natural and Lush are completely against animal testing, so you know you are getting a good quality product. I really don't mind spending that much on something like this as I am used to spending MAC/ Illamasqua prices. Although, you do get a lot for your money, as you can see from the bottle, it is quite big. So you are definitely getting your moneys worth from the point of view of quality and amount.
In their new make up range they also have, a translucent finishing powder, which is also meant to brighten up your face and such, I might get this when my MAC one runs out- as well as a bronzer and a highlighter. These are all £12 so not too bad. This is all the lady showed me, there could be more, but that is all there was in my local store. I would definitely recommend going into your nearest Lush store and checking out Emotional Brilliance!
So what do you think of this new range at Lush? Would you be tempted by any of it? Or is it a bit too pricey?