A is for Arsenic, London, is a clothing line set up by Amelia Arsenic of Angelspit. As a huge fan of the band Angelspit I could not wait to get some extra money in so I could check out her on-line store and purchase something! She has a few ranges, one called "Crime and Punishment", "Black Heart" and the other "Taxidermia". Check them out for yourself:
clicky clicky
.
So I decided to buy a tank top from the "Crime and Punishment" range. However this particular top needed to be re-printed which delayed it arriving by about three weeks, which sucked. But Amelia's customer service was brilliant, she kept me up to date with what was happening, was very apologetic and kept offering me a full refund if I did not wish to wait. Of course I wanted to wait, and while her emails were filled with bad news, the fact that it was her sending them made my day, a little bizarre, I know. But finally, last Saturday it arrived, and it was some very quick work by the postman considering it was shipped Friday afternoon! I actually squealed at the postman when he handed me the black package with the the A is for Arsenic address sticker on the back, my sister then came running down the stairs panicking thinking I had been murdered or something.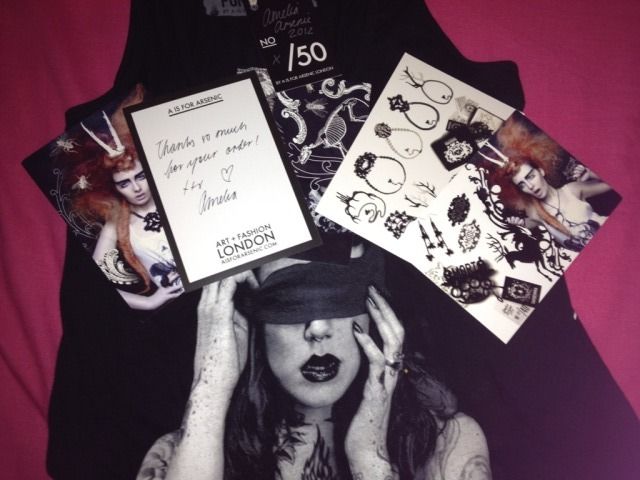 So I open the box and the first thing I am greeted with is a signed postcard, thanking me for my order, this got me excited, haha, I would apologise but I am a huge Angelspit fan and Amelia Arsenic is an inspiration of mine, so I am allowed to get excited! The top itself is really good quality and also has a print on the back, which I had no idea about, but I love it! I won't show pictures of it, as I think it was meant to be a secret, buy the top to find out! There also were a couple of postcards showing other products, these are definitely going on my wall.
Overall I am really happy with my purchase, despite the delay, I cannot wait to wear it out on Wednesday! And here is me wearing the top :)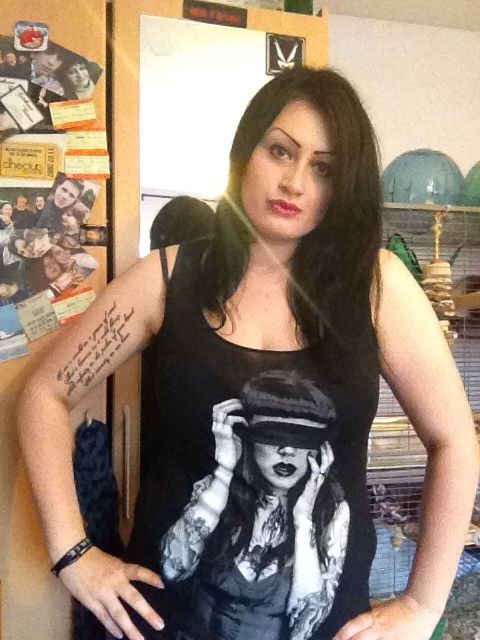 Ignore my rather gormless expressions haha, but I had limited time to take pictures
Are there any Angelspit fans here? Would you buy anything from her store? (I have to admit after going on there to get links for sources I have just made another 2 purchases *facepalm*)