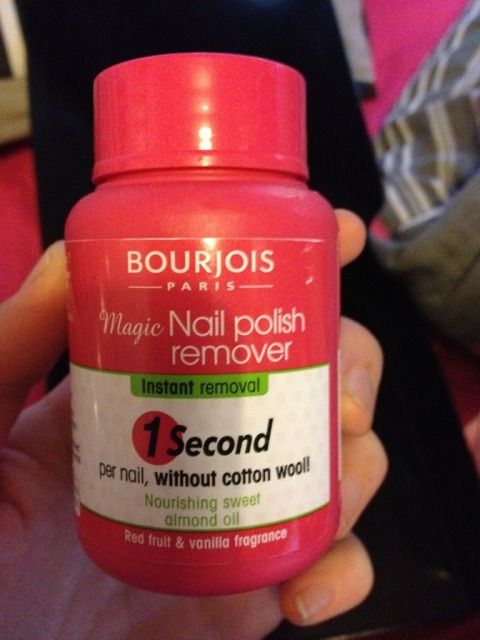 When I first heard of this product a few weeks before it's released I was instantly intrigued by it, and wondered how it worked. As it states on the side of the container "1 second per nail, without cotton wool!" The bit that got me hooked was the part at the end no cotton wool, I hate using cotton wool when removing nail polish as it always seems to break apart, especially with glitter polishes.
So how this product works is inside the container there is a sponge soaked in nail polish remover with a hole in the middle, the hole is where you put your finger, twist it around a bit and nail polish gone. It does say one second, however it does tend to take a few tries with a thicker nail polish, but it certainly is more convenient than a bottle of nail polish remover and cotton wool. Also with glitter polishes you don't have the pieces of cotton wool pads clinging to your nails for dear life. So personally I absolutely love this product.
It claims to be red fruit and vanilla fragrance, but don't do what I did and stick your nose in to smell it to find that it smells like regular nail polish remover and possibly get slightly high at the same time. The smell of red fruits and vanilla is what your nails smell like after being dipped in the pot, and it smells so good, and there no is no lingering chemically smell, it also leaves your nails feels smooth.
This could be considered quite pricey, as you can get your average nail polish remover and some cotton pads for like less that a pound and this is currently retailing at Boots online for £4.99. I think it is completely worth it, as it is so much less hassle, and it also has prompted me to paint my nails more because it's no longer as annoying to remove. Although I have no idea how long it will last for. :) What do you think about this Bourjois product? Think it may be the future for nail polish removal?